Carolyn Jameson's IPE PRO Personal Bio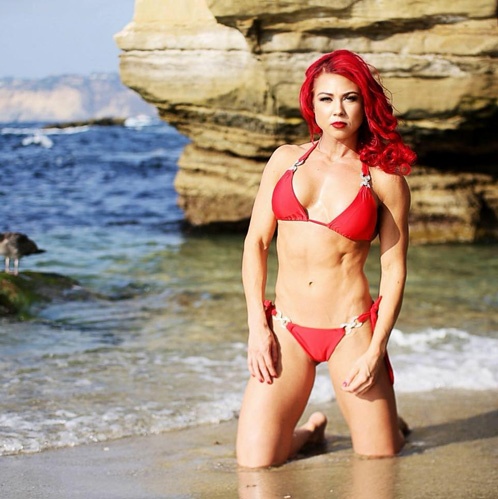 Quick stats:
Age: 32
Height: 5'6″
Weight: 135 lbs
What I do for a living and for fun:

I am a chef manager for Eurest dinning. I run a small café for Walmart home office in the destitution center 6094 in Bentonville, Arkansas. I love cooking for our clients and working with my associates. We do what we can to have fun during are day which is not hard. We are very close family (associates & clients) I also teach classes at Fitness One, in Lowell, Arkansas and provide personal training and competition prep. I love and have an extremely high desire for everything that I do. I have a passion for fitness and wellness so all my jobs go hand in hand.
For fun outside of the gym I love to do anything that is outside in the sun. Hiking, shooting, going to lake with friends, swimming, just chilling on the back porch, riding my bike, and traveling which of course is my favorite!!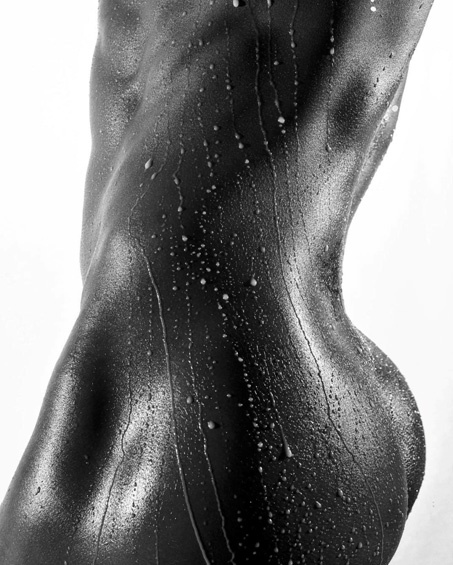 How did I get started with bodybuilding?

I've been modelling for a few years, and a part of my job was to stay in shape. I loved it and it led me to became a total gym rat. After months of intense training the abs started to show and I was enjoying the fitness lifestyle. Suddenly the modelling requests were coming from Fitness Magazines and Supplement companies.
A friend of mine Jennifer Wolf "Jwolf" told me to compete in the next "Me vs Me" Bodybuilding and Bikini competition in Kansas City, Missouri so I gave it a shot. It was absolutely amazing to step on that stage! The feeling was completely overwhelming, and from then on I was hooked! From that point I competed in many competitions and finally earned my IPE PRO Card 09-24-2016. Now competition as a Professional I have had to step up my game to compete with all those amazing athletes.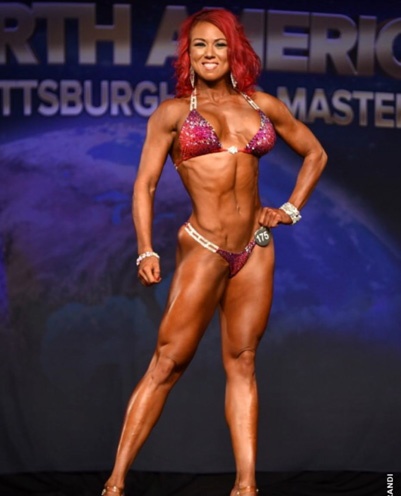 Where does my motivation come from?

I would say the mirror. There's nothing more motivating than when you find a new vein! Am I crazy? Probably, but it's true! Progress is what motivates me to keep pushing harder and not give up. Also it's extremely motivating to have so many female fans.
I am a goal oriented person. Once I set a gold I go after it! I had self-motivation (being in a bikini on stage) but I also relied on my friends and family keep me motivated.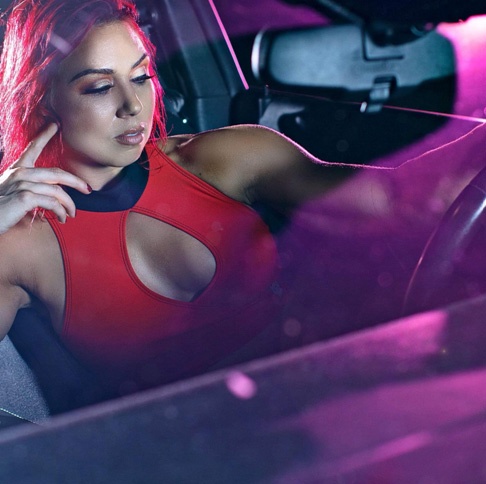 This is my favorite worked Routine.
Full Routine:
Monday: Cardio/Abs/Back/Biceps
Morning fasting cardio stair climber 40 min
Rack pulls
Lat pulldowns (using 3 different grips)
Cable row Machine
T-Bar Rows
Wide grip pull ups
Dumbbell Curls
EZ Bar Curls
Cable Curls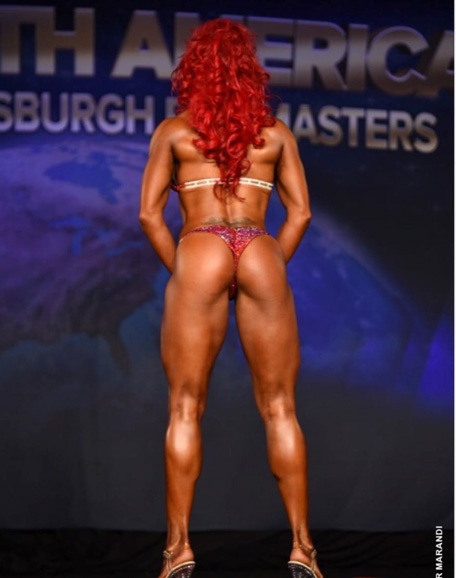 My 3 favorite exercises, what would they be and why?
Bench: 175
Squat: 260
Deadlift: 290
Total: 725/ double body weight lifter
I love training power. These 3 main lifts have given me my foundation. Don't get me wrong I love all the accessory work as well!! In my mind it is all fun but the gains that I get from the heavy main lifts are what I live for!!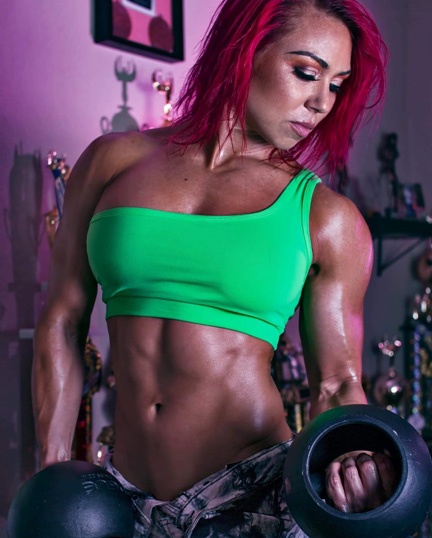 What is your diet like? It changes as I change but here is quick peak.
Daily Diet:
Breakfast: 1.5 cups egg whites, 1 cup regular cheerios

Meal 2: 4oz chicken breast, 3 oz sweet potato, 1 cup green beans, 1 oz raw almonds
Meal 3: 4oz chicken breast, 3 oz sweet potato, 1 cup broccoli, 1 oz raw almonds
Meal 4: 4 oz of 97/3 ground turkey, .5 cup white rice, 1 cup broccoli, 1 oz raw almonds
Meal 5: 1.5 cup egg white, .5 cup white rice, .5 cup broccoli

I sweat like crazy. So when it comes to cardio I do whatever I feel like: Stair Master, Spinning classes, Arc trainer, battle ropes. I keep the intensity high and make sure that I am always pushing myself my hardest.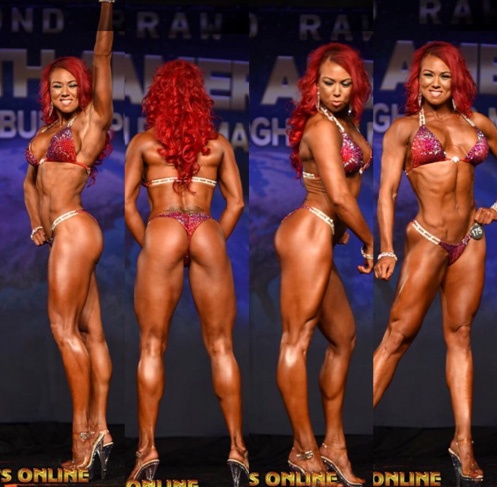 My favorite supplementations are:
Fit bull labs products are what I love to stick with. I use recover9, PepFusion, and recharge5.0. GEC's TNT thermanite, and New Whey liquid protein.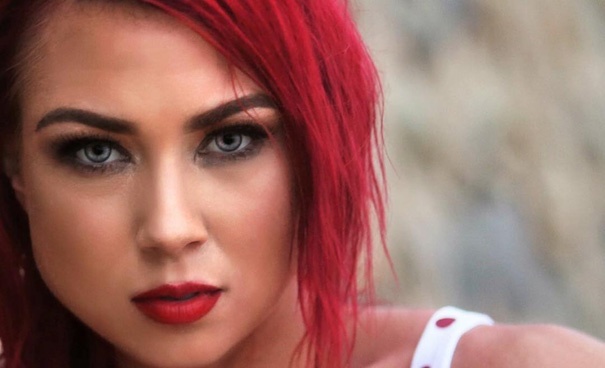 Favorite Quote?
"If you want to succeed as bad as you want to breath then you will be successful" – Eric Thomas
Instagram: Carolynjameson45
Facebook: Carolyn Jameson IPE Pro
Snapchat: Carolyn Jameson